By Maria Lopes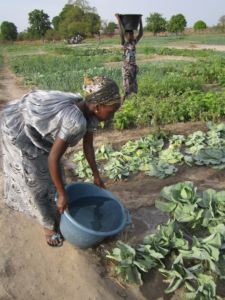 July 16, 2021
Women at the Old Jeshwang horticultural garden say their farm is usually infested with reptiles, specifically snakes and crocodiles, during the rainy season. The women made the disclosure when this reporter visited the farm recently. They also cited lack of access to fertilizer and proper fencing for the garden as other major constraints.
One of the women, Isatou Ndure, said it is sometimes very difficult to clear the land to grow crops and vegetables during the rainy season, due to the garden getting water-logged and overgrown with weeds, which makes the place to be infested with crocodiles and snakes. "This makes us to be scared and left with no alternative than to run away and leave the garden unattended," she lamented.
She then appealed to the government of The Gambia through the Ministry of Agriculture to provide them with fertilizer and also help drill the stagnant water in the garden.
Madam Ndure maintained that the garden is very productive, with crops usually growing well because of the fertile soil. She disclosed that they grow vegetables like cabbage, tomatoes, okra and garden egg.
Isatou Jagne, who also works at the garden, said they work labour to earn their living, sustain their families, pay their children's school fees and meet other basic needs from the proceeds of the garden, despite all the challenges they are facing.
She added: "We face a lot of challenges because the garden has been without proper fencing for years now. Accidents do occur here sometimes; most of our crops and vegetables get destroyed; it is sometimes scary to stay here because of the snakes and crocodiles. We appeal to the government to help us erect a proper fence around the garden to ward off animals; for now we are using rags and mosquito nets as fence."
Latest posts by News Desk
(see all)