News Desk January 19, 2022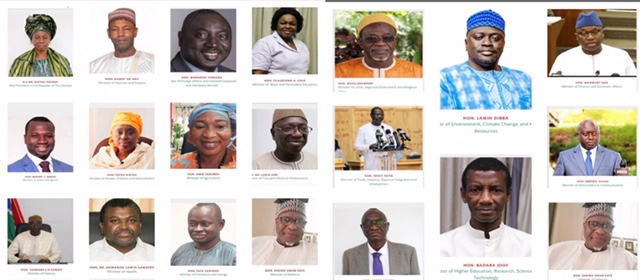 As the president is all but set to assume a fresh mandate, Gambians expect him to deliver, and improve their living conditions better than what they had during his first term in office.
One of the major steps, President Barrow is expected to embark on after the inauguration is the appointment or reshuffling of the cabinet and set the scene for what is likely to unfold in terms of hiring smart lieutenants who are expected to help the president usher in the much needed reforms in the coming months or years.
By all indications, President Adama Barrow for now, has managed to tame the political tornado generated following the historic December 4th presidential election, in which he trounced crushingly his major opponents.
Some gullible Gambians were taken aback as the results started trickling in moments after the vote were cast, with many thinking the United Democratic Party (UDP) and the National People´s Party (NPP) was going to carry the day. But that was not to be, as the final tally tilted toward, an inevitable, NPP win.
UDP, not convinced that the results were clean took the matter to the Supreme Court, but the issue was tossed out twice and the challenge has now been consigned to the history bins.
Angst and recriminations, all too pervasive, especially in the court of public opinion will hardly forgive the Supreme Court for not letting concerned Gambians and the international community hear 'the tons of evidence' on why the election was allegedly 'darkened' by the Barrow surrogates.
And there was, still now, no congratulatory messages from his major challengers, UDP's Ousainou Darboe and Gambia Democratic Congress´s (GDC) Mamma Kandeh, the duo, like some people believed the election was cleverly stolen from Gambians.
While conspiracy theories have their own lifelines, the wheels of government cannot be put on hold, the system, like time and tide doesn't wait for anyone – it ought to move.
One thing though, this time around, President Barrow should not cry that a coalition government is usually bedeviled with challenges. That, devil, Barrow himself told Gambians was the UDP, after the bitter and fractious spars with Darboe, Barrow boasted that he was going to send his godfather to retirement after the election.
Like a rowdy forsaken child, Barrow largely blamed saboteurs in his government for the lack of progress in some sectors. And in what many people described as the slow pace of development during his first term, beset by corruption scandals and incompetence, the second term should be different in various ways.
The Progress newspaper, in the following pages offer you a scoop on all the nineteen cabinet ministers that in full or in part made the cut during President Barrow first term in office. And, we dive deep through our analysis on why Barrow might possibly retain some and why some might be sent packing, deployed or retired.
Dr. Isatou Touray
For the sake of gender empowerment and means of appeasing the gods of feminism, President Barrow might gamble on maintaining a woman as his number 2, but it might not be long before Barrow change the current occupant of the office. Dr. Touray is for the most part in public an angry individual, whose outbursts are usually salty and unforgiven. She has not done tremendously well when it comes to delivering up to expectations when she replaced Ousainou Darboe as VP. She has traveled extensively on official trips, but her speeches are usually not inspiring and doesn't electrify the crowds. She could, however, be forgiven for her livid spirit, having spent most of her time in activism, occupying that office will certainly take some time before she settles down. But which woman is best suited to replace her? certainly, there are some many, but don't tell Barrow to dip in from the old recycled APRC basket.
Hamat Bah
If there's anyone President Barrow will hardly fire in his cabinet it will certainly be Hamat Bah, of course, the gods of misfortunate are sometimes unpredictable, can wreak havoc and spoil the party in some gloomy days but Hamat Bah is largely favored by the gods. Bah has sometimes stepped up to swallow bullets for Barrow through his fiery statements that sometimes have the potential to hurt so many people. Examples of Hamat Bah's incendiary outbursts abound, but one that was so near to us, was his suggestion that Ousainou Darboe should not be addressed as honorable.
The worse that could happen to Hamat might be a reshuffle to some other ministry, say, local government, where he can pounce on local government authorities in a bid to garner more support for his boss. Hamat might also thrive well in the ministry of information, because he's good at flexing muscles with members of the fourth estate. It is not that he's efficient and effective, but he's really someone who can hardly be silenced, so, any leader, especially in Africa where usually political tornados do happen, a certain Hamat is needed to simmer tensions.
Momodou Tangara
On a 10-point scale of performance metrics, Tangara might score, 6, but it depends on what type of work, he's being examined. There's no doubt about his experience, education, and professional competence, but Tangara and his boss, did not do well when it comes to the steady stream of Gambians deported from Europe. Tangara, is mostly preoccupied with mending the already existing bilateral relationship between Banjul and its development partners. He's not good at running to his boss when issues are hot, until when the social media tornado start whizzing. A case in point is the recent deadly fire incident in New York, it took the government more than one day to put up a statement. One would have expected the government through his ministry to raise funds for the victims of the fire incident as has been done by so many concerned individuals through the GoFundMe initiatives.
Barrow should NOT compromise his second term with individuals who are not marching with the changing times, this ministry definitely need someone who has what it takes to respond with urgency issues relating to Gambians abroad.
Claudiana Cole
When it comes the ministry of basic and secondary education, the Gambia government has always been lucky to have professionals with wit, candor and steadiness in mind and character. Madam Cole is one of them, however, the recent uproar about the poor salaries of teachers and the need to upgrade is worrying, if Barrow is serious about reforms, surely, madam Cole should step up and tell government what should be done about this. If she's able to make it in the next cabinet, Cole should focus her energy into improving the lot of teachers, ensure that WAEC exams results are good- so that children will score well in the core subjects and enable them to proceed to college or university without taking remedial courses.
Barrow should NOT bring in someone with a heavy political leaning so that achievements are compromised, derailed, and bastardized.
Bakary Badjie
Bakary Badjie is also favored by the gods of fortune; his appointment to the position coincided with historic breakthroughs in the area of sports; Gambia qualified to take part in the Africa cup of Nations. Because, he's been put at his comfort zone, it is not easy to pint point Bakary Badjie's weakness. The youth minister is a likeable character, when given the support may surpass our expectations. So, in his second term, Badjie should consolidate on the gains recorded, and ensure that youths from Banjul to Koina are given the chance to participate in sporting activities. And a rigorous exercise is also needed to scout Gambian talents abroad.
Fatou Kinteh
The Ministry of Gender, Children and Social Welfare is still new in our body politic, yet madam Kinteh is still struggling to make an impact. Gambians can forgive but during the second term if she's lucky to make the cut, madam Kinteh should concentrate on the following: raise people's consciousness about gender issues, through the local languages, either via townhall meetings or interactive sessions where the issues should be addressed.
If there's none, Gambia should devise a policy around children, especially orphan children, who are sometimes exploited by their masters to fetch handouts in the streets for their feeding. Underage kids should not be let to sell goods in the streets. Government should also provide incentives for the elderly, retirees to enjoy their time without having to worry about the sometimes meagre social security retirement package. Fatou Kinteh's work is already cut out for her, therefore, we expect her to do better in the second mandate handed to Barrow.
Bai Lamin Jobe
It is NOT difficult to fail Bai Lamin Jobe as minister of Transport Works and Infrastructure, if he's measured through the index of road infrastructure vis a vis the frequent accidents that have claimed so many lives recently. It is still debatable; whether roads kill people or people kill people, but for the most part, we tend to point our fingers toward the poor shape of our road infrastructure. On the good side of the coin, Barrow may maintain Jobe for his efforts in setting up a robust infrastructure in and around Banjul. He's for example, team up with other institutions such as the OIC to modernize the state of infrastructure. Though, Bai is not directly involved in political commentary, it should certainly not be a chance to trade him with another dude.
Yankuba Sonko
He may be counting his days in office, if President Barrow is serious about making something out of the TRRC recommendation, where Interior Minister, Yankuba Sonko is reportedly said to have played a part in Jammeh's human right excesses during his tenure in office.
By all indications, Yankuba Sonko was hired at a time of heightened tensions, when the activist organization, widely known as 'three years jotna' [ three years is enough] set up to pressure President Barrow make do his pledge to relinquish power after three years. Sonko managed to steady the vitriolic atmosphere that almost frustrated his boss. But that was that, now is time for Barrow to get rid of individuals who are reportedly said to have blood on their hands, from his new cabinet.
Barrow has 2 million Gambians to choose from, it is not difficult to find a replacement, certainly it doesn't have to come from 'the old APRC contingent waiting to be rehired'. Yankuba and others have to have time scouting for other jobs elsewhere if he's unable to go to court to defend himself against his indictment.
Dr. Ahmadou Lamin Samateh
This technocrat turned Health Minister has taken so many bullets, from all directions, especially at the height at the first wave of the Covid19 surge. Well, the Gambia did not (thank God) perform badly when it comes to containing the number of individuals hit hard by covid19 and its variants. He was largely criticized and valorized by sections of the media for calling out individuals who were thought to be corrupt during a session in parliament in 2020.
Many people, especially those who work with him, have kind words for Dr. Samateh for being a straight shooter and incorruptible, but his ministry has put him in a negative light. Gambians and international development partners are finding it difficult to understand how Covid19 funds were largely unaccounted for, when the news was published by the mainstream Gambian media.
Though, the ministry said some gains are being recorded, but frequent news reports about maternal mortality in some health centers around Banjul and the West Coast Region are making things complicated for Dr. Samateh to be maintained in Barrow's new cabinet.
The reality is that in some cases making the cut in the next cabinet might not be based on solid institutional achievements, this minister will certainly have the backing of some powerful forces behind Barrow. So, expect, Dr. Samateh to bounce back, unless if something extraordinary happen now or today.
Fafa Sanyang
When it comes to energy and NAWEC is put into the equation, then, this will not give Fafa favorable ratings because NAWEC is a disappointment and social disaster as well.
On all things being equal, Fafa could be credited for helping the government gained some headway into the promising oil and gas prospects. Although, no significant monetary gains have been accrued from it yet, since the authorities launched the project some years back.
If Fafa is worth his salt, he's got loads of work cut out for him, this includes, ensuring Gambians enjoy an uninterrupted supply of electricity. It must be mentioned, the launch of the OMVG project is expected to ease the mounting pressure on NAWEC's load shedding. So, Fafa and its aides should consolidate gains recorded at this time and take with them the good stuff to the second calling if he's lucky to be included.
Sheikh Omar Faye
From Jawara, Jammeh and now to Barrow, Banjulians are always given the juiciest part of the cake in the government. During the twenty-two year reigns of Jammeh, the Ministry of Defense was reserved for Jammeh, after all, he was former military officer who came to power through the barrel of the gun, he would not trust anyone to handle this sensitive position. But in a nation whose leader vehemently refused to hand over power after losing the election, until a subregional army threatened to flush him out. Barrow reigning that position, certainly made sense, if the defense minister is not a populist.
Sheikh Omar Faye or whoever his replacement might be, should make sure ECOWAS and Senegalese troops are no longer in the Gambia; the Gambia Armed Forces should be made greater again. The reputation of GAF was tainted in the dying days of the Jammeh era when loyalty was divided between the outgoing and incoming president. At some point, the chief of defense staff, Lt. Gen. Ousman Badjie almost found himself in a delicate atmosphere, wondering what to do with two masters beckoning on him.
One would have expected a man of Sheikh Omar Faye's pedigree to fast track the much needed security sectors reform by restoring the confidence of the army. And added to his priority list, is to make sure, the presidential security detail is exclusively reserved for GAF.
Also, a defense minister, the skills of the men in Khaki should be harnessed through the usual encouragement from its line ministry by giving it contracts to handle infrastructural works from time to time.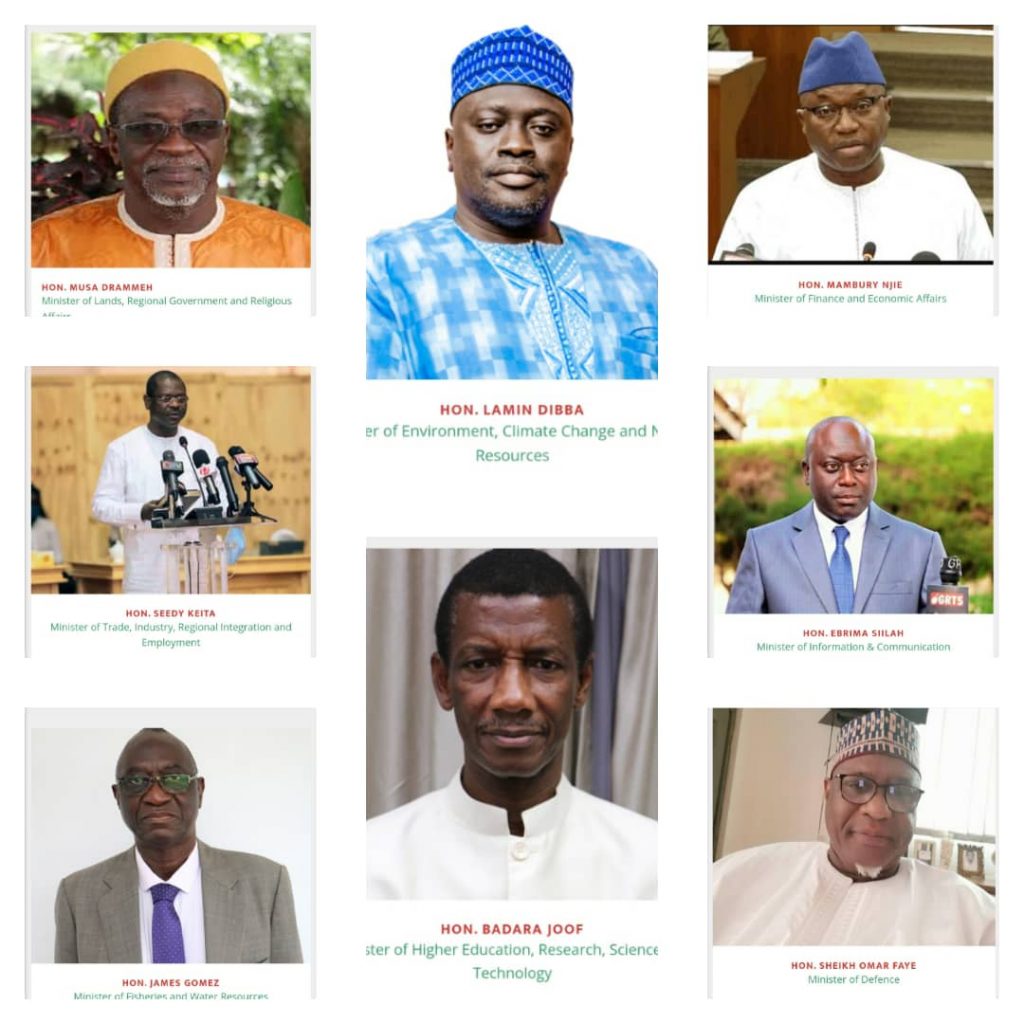 James Gomez
By this time, if it was in other countries, James Gomez's tenure as minister of fisheries and water resources should have ended abruptly through his resignation after an audio emerged that his permanent secretary was heard soliciting bribe from an unknown source. This incident made headlines, after it disappeared, the permanent secretary was taken to court, but the minister who usually work hand in glove with the PS should have resigned honorably to save face.
While every other ministry usually beat their chest that it has achieved something meaningful, but for this ministry, one can hardly relate to any solid projects it has achieved during Gomez's tenure. Maybe, the ministry's march toward progress might have been blighted by the frequent incursions in the coastal town of Gunjur where the Chinese plant was seen an unwelcomed investment. Also, the frequent fish shortage during festive occasions have largely been blamed squarely on the lack of Gambian individuals in the sector.
In his second term, maybe, just yet, Barrow might appease the PPP diehards, Gomez should dedicate more time to reviving the fisheries sector and make sure every other Gambian is heavily involved.
Mambury Njie
Mambury has had his fair share of cusswords mainly from the army of Gambians on social media, about the fact that he was an enabler during Jammeh era and about his approach to fiscal discipline in Barrow's cabinet. At some point during these tensions, Njie berated before the National Assembly that he would not resign, and that he was best suited to do the job.
It seems the dust has since started to dissipate about the Financial Reforms he presided over during his most turbulent months; like other cabinet ministers, Njie is also favored by the gods. And to Barrow, Njie is so far one of the best he has hired, even during the first game between Gambia vs Mauritania, in the ongoing Africa Cup of Nations in Cameroon, Mambury was in the midst of few cabinet ministers invited to watch the match with his boss.
Despite the media onslaught, it was during Mambury's watch that salaries of civil servants were increased, so, it is high unlikely for Barrow to change Mambury.
Ebrima Sillah
At some point, one might be tempted to assume that the ministry of information is all about countering dissent and issuing endless press releases; this, of course is the result, one gets when one hires an individual who spent his youthful days as a reporter. If Barrow decided to reward Sillah by maintaining him as information minister, that will be attributed to the fact, the President wants more people to be defending him than working technocrats who will do more work than talk.
Let it NOT be forgotten, the ministry of information is not merely about talking or reacting to negative or critical comments about the government's handling of issues, the GSM companies, PURA, and post office are under the ambit of the ministry. What Sillah has done is to mortgage the challenging aspect of his portfolio, and covering it with someone else's job such as the government spokesperson, Ebrima Sankareh.
For justice and fair play to prevail, Barrow should hire Sankareh to the ministry of Information and rehire Sillah as spokesperson general, i.e., government and the ruling NPP.
Inadequacies in this ministry far outweighs the achievements, for instance, one would have expected Sillah who's touted to have done well in print and electronic journalism to align the achievements presided over by Barrow in his first term in a documentary. The UDP did a masterpiece documentary on Darboe and the struggles of the party.
Under Sillah's watch, Gambians witnessed the fall of Comium, until an investor stepped in, even though, the atmosphere is still not in good shape. The fall of Comium would have far reaching consequences on the number of Gambians who will be looking for employment elsewhere.
The frequent excuses given for the poor internet network should be brought in the second term.
Badara Joof
Badara Joof stewardship at the ministry of higher education, research, Science and Technology can best be wrapped as promising; even though, he has tons of issues to look at if he's included in the new cabinet.
During his first tenure, he presided over the appointment of the second Gambian born Vice chancellor, which was a good step, considering the long cherished dream of Gambianizing the University of the Gambia.
Joof should also fast track the construction of the UTG Faraba Banta campus, in his second term. Surely, UTG deserve better, and efforts geared toward ensuring that students are adequately catered for, which include housing and transportation to and from classes should top the agenda.
The post holder should also encourage and scout Gambian expats in the diaspora or on the African continent to consider giving back to the university. When it was stated that Gambianizing the UTG was a dream, efforts should be invested in that sector relentlessly.
In conclusion, the ministry should increase its budget on UTG scholarship, ie from undergraduate and post graduate.
Seedy Keita
The recent bread shortage and the subsequent press release issued by the ministry of Trade, Industry, Regional Integration and Employment brought into sharp focus what Seedy Keita should be preoccupied with if he makes the cut.
Since Keita's appointment, it has largely been free from an incessant media scrutiny, this is partly due to the fact that he's either new or his ministry doesn't attract much interest from online sources.
Keita is also touted as international development expert having had the much needed international exposure, which he's expected to unleash back home in Barrow's cabinet.
It appears, Barrow might give Keita enough time to deliver the goods, but he (Keita) must turn the tide when given the chance.
Away from the home front, he should work with the authorities to ensure that the subregional is fully integrated, positions should be commensurate with realistic gains not mere titles bereft of meaning.
Musa Drammeh
When it comes to rewarding individuals for the crucial roles they play, Barrow should certainly give it to Musa Drammeh big time. As local government minister, it was music to the ears of local authorities when the idea of paying of Alkalolu monthly salaries emerged in the run up to the presidential election. The current occupant played a key role in drumming up support for this initiative. And that's not all, Musa Drammeh has managed to put up a historic commission of inquiry on KMC at a time of another crucial election season.
In Barrow's Gambia, subtle political subjugation are the buzzwords, therefore, there may be loads in the bag, when the need arises, they will be unveiled. Musa, is rest assured of bouncing back, except if Barrow has a better replacement.
But if Musa bounces back, he needs to regulate the simmering tensions in the lands sector, mainly the conflicts emanating from individuals buying plots of land only for others to claim the same property.
Should we remind the occupant of this office that there should also be reserved land for future developments in certain localities. The issue is not all about selling plots of land just because there may be willing buyers, that's not the system we want to see in Barrow's second term.
Amie Fabureh
Being the first woman to occupy that position, Amie has succeeded in putting herself on the good side of history, but that's not all. If she is given to chance to serve as minister of agriculture for the second time, she has to be more pragmatic and work towards ensuring basic food stuff such as eggs, rice, potatoes are no longer imported.
The ministry of agriculture should not be all about dishing of fertilizers and buying nuts from farmers for chicken change. The Gambia should graduate from that; it is time, something is done to drastically reduce the heavy dependence on basic food items such as rice and flour.
Imagine the recent bread shortage, which was attributed to flour shortage, what of coos bread? If Barrow's government are definitely ready, they can resuscitate the Jahally Patcharr, Kuntaur rice projects and start seriously looking at what went wrong during Jawara and Jammeh's reign. What happened to the elusive dream of providing enough rice for the country's consumption?
Are the donors of the country's development programs not keen in having the Gambia produce what it eat and eat what it produce. For example, we understand, there were series of research programs conducted on these programs but the Gambia is still dreaming about when and how it will achieve certain dreams. How sad!
Lamin Dibba
A reticent individual who hardly appear on the mainstream media to make a name for himself or about the achievements he has recorded. NCP card-carrying member, Lamin Dibba managed to survive the coalition first term without major incidence. His ministry also doesn't attract much public scrutiny, apart from the fact that environmental hazards are also becoming a source of interest.
With governments becoming more and more ambitious about development projects, focus is now on the environment, to build hotels and other infrastructural works. This is where environmental activists are seemingly at odds with government, because some of the precious game parks are being threatened with government encroachment.
In his second term which is highly that he will be included in the cabinet, Dibba should make sure, the environment is fully protected against individuals bent on destroying our biodiversity.
The ministries of tourism should team up with the ministry of environment and natural resources to market the country home and abroad. Even as the world look at the map of the Gambia with disdain, it features are unique, so is the navigable river Gambia, which is undoubtedly one of the most invaluable resources, the Gambia can boast of.
Latest posts by News Desk
(see all)