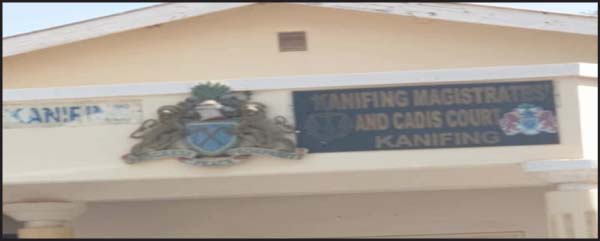 Magistrate E.J Colley of the Kanifing Magistrate Court on Wednesday sentenced one Omar Jeng and Ebrima Jammeh eight years jail term for stealing.
The duo are charged with four counts of offense that's breaking into a house, stealing, felony and stealing after pleading guilty.
In his judgement, the presiding magistrate said the first and second accused person's are convicted on count one, count two, count three and count four. He said the crime that the accused are charged with is a serious offense and they are youths who can engage themselves into something important rather than stealing. "The accused persons didn't only stop at breaking into the house, but they also stole the properties of innocent citizens who most have work hard to buy their goods" he said.
The magistrate added that the accused persons should compensate the complaint Bannu Baragi eleven thousand dalasis in default to serve one year in prison.
He further stated that anyone found guilty most be punished for the offense.
Count one of the particulars of offense stated that Omar Jeng and Ebrima Jammeh on the 19th January 2022 at Bakoteh in the Kanifing Municipality they entered in the house of Bannu Baragi to commit felony.
Count two stated Omar Jeng and Ebrima Jammeh did on the same day and at the same place stole receivers valued at D306 Euros equivalent to seventeen thousand seven hundred dalasis, Samsung flat screen Tv valued at 459 Euros equivalent to twenty six thousand five hundred and fifty dalasis, Intel smart phone valued at six thousand dalasis and Itel p 36 smart phone valued at five thousand dalasis being the properties of Bannu Baragi.
On count three, Omar Jeng and Ebrima Jammeh broke into the house of Ebrima Kota to commit Felony; while on count four, they stole one flat screen TV valued at fourteen thousand dalasis, one receiver valued unknown and one Itel spark four valued at five thousand dalasis being the properties of Ebrima Kota. Sub inspector Jammeh represented IGP.
Latest posts by News Desk
(see all)