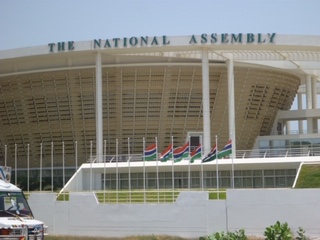 The National Assembly of The Gambia has tasked the country's health ministry to offer explanation about nearly D1. 5m allowances it claimed to have paid Covid-19 frontline workers.
The Permanent Secretary at the Ministry of Health, Muhammadou Lamin Jaiteh, on Monday appeared at the National Assembly in Banjul, where members of the legislature's Finance and Public Accounts Committee (FPAC) met to deliberate on the National Audit Office's findings on the Covid-19 funds.
The health ministry has yet to offer clarity about close to D1. 5m it said was paid to individuals on government payroll and in the private sector as allowances for being in the frontline of the Covid-19 fight.
PS Jaiteh told the House that the allowances were paid in two phases. He explained to FPAC members that D5,000 was initially paid to the beneficiaries but said not all the "identified frontline workers" were captured in the ministry's master list of beneficiaries. He pointed out that government of The Gambia gave the approval for "overall" allowances.
"As we explained earlier, not all the beneficiaries were captured. Later, we learned some were omitted and we paid them. The list of omission was provided. But, definitely payments were omitted from the voucher," Jaiteh stated.
The health ministry PS could not convince some FPAC members regarding the "omission of 75 individuals from its master list" of beneficiaries.
Latest posts by News Desk
(see all)