By Maria Lopes & Ismaila Sonko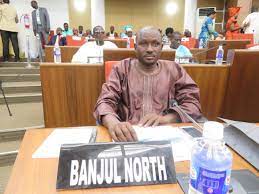 July 30, 2021
The National Assembly Member (NAM) for Banjul North says that lawmakers don't speak with one voice in serving the national interest, whilst also stressing that the Assembly has the power to remove the president, censor ministers as well as invite government officials to demand for any document to be tendered before the lawmakers.
Ousman Sillah made the remarks at the National Assembly during the recent debate on the National Assembly Service Bill 2021.
He lamented that lawmakers do sometimes come to the parliament with party colours, looks and tags, in other words, serving the interests of their various parties. He added that as a result, they fail to speak with one voice to serve the interest of Gambians.
 Sillah stressed that from the onset the National Assembly has the power, authority and opportunity to be independent. "If there is anybody to blame for having such a bill [National Assembly Service Bill 2021] brought to us at this stage, almost at the tail end of our mandate, it is none other than ourselves, we should not blame anybody," he declared.
He reminded his fellow lawmakers that the Bill is not talking about the independence of the National Assembly, but autonomy, and provides for the body to oversee the institution of parliament and effectively account for its administrative, operational and financial independence from the executive.
He continued: "What is happening with regard to the judiciary is what is happening with us; we should have autonomy to prepare our budget, send it to the president who will only look at it. He has no power to make [changes] but can take notes and make observations. We have been having challenges in terms of the lack of financial autonomy and sometimes our committees will want to operate but the procedures are not there; this could have been rectified since day one had it been we were speaking one language."
Latest posts by News Desk
(see all)