By Maria Lopes and Ismaila Sonko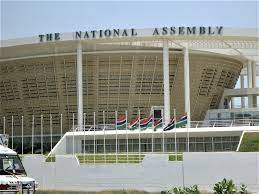 June 28, 2021
Two National Assembly Members (NAMs) have professed
opposing opinions about the performance of the Barrow
regime.
Saikou Marong, National Assembly Member for Latrikunda
Sabiji and Omar Ceesay, Member for Niamina East during
interviews with The Progress Newspaper respectively
hailed and criticised the Gambian leader.
Marong ditched the United Democratic Party (UDP) under
which platform he was elected and switched allegiance to
Barrow, while Ceesay belongs to the Gambia Democratic
Congress (GDC).
Marong heaped praises on Barrow and tipped him for
victory in the forthcoming Presidential Election, and,
reminiscent of a familiar rhetoric of Jammeh loyalists when
the dictator was in power, claimed there is no credible and
serious opposition party in the country. He credited the
Barrow administration with, amongst others, empowering
women, providing adequate funding for the National
Football Team (Scorpions) which enabled The Gambia to
qualify for the African Cup of Nations for the first time ever,
in addition to building mini-stadiums across the country as
part of an ongoing youth empowerment project.
"Looking at education and other sectors you will find out
that this government has done a lot for us," he said.
In stark contrast to Saikou Marong's claims, Omar Ceesay
rubbished the chest thumping of the Barrow
administration, describing it as mere propaganda. He
maintained that they are misleading the people, citing as
example, conflicting figures given by the Gambian leader
and the Education Minister about the number of schools
the regime has built since coming to power.
It would be recalled that in an interview with this paper
published in our Friday 25 June edition, Omar Ceesay
accused President Adama Barrow of lying to Gambians by
claiming that his government has built three thousand
(3000) classrooms across the country, whereas the
Minister of Education, Claudina Cole, told the lawmakers
that government built two thousand and eighteen (2018)
classrooms.
"They are using this as a political propaganda in order to
win the minds of Gambians, and in fact the figures are not
the same, they are just falsifying the information," Ceesay
was quoted.
Marong also took his former party, UDP, to task, recalling
that in one of their meetings they (UDP members)
promised that if they come to power they will allocate 10%
[of the budget] to the Ministry of Agriculture.
"From 2017 to late 2019, the 31 National Assembly
Members and some Cabinet ministers who were part of
UDP, what stopped them from proposing to the
government or the National Assembly, to allocate 9% to
the Ministry of Agriculture?" he queried.
Latest posts by News Desk
(see all)