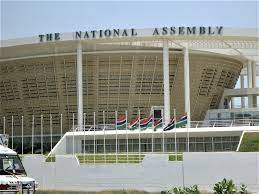 The National Assembly Member for Lower Badibou says that Parliamentarians who voted against the Draft Constitution saved The Gambia from an 'intellectual coup d'état', because it has a provision that makes it very easy to remove a president.
Alagie Jawara made the disclosure to this reporter during a recent interview at his office in Banjul. He said that a Section in the Draft Constitution states that only 20 members (slightly above two-fifths) are needed to vote for the removal of a president, while three-quarters (39-40) have to vote to remove a High Court Judge.
"So what does that signify?" he queried, and added: "And we have heard members in this Assembly saying that they will come with a motion to impeach the president. What does that tell us?"
The Lower Badibou NAM also pointed out other anomalies in the Draft Constitution, among them the Section that says that someone convicted by a Court of Law but gets pardoned is qualified to contest for the position of president whereas anyone dismissed from public office will not be qualified to contest for the same position.
He also picked issues with a provision that prohibits a public servant from engaging in other [business] ventures.
His words: "For example, if I am a nurse, I will not be allowed to go and operate my private business.
So in essence you are promoting corruption because if you look at the salary scale of this country and you want to tell people not to engage in other meaningful ventures then what are you trying to say? So all these are issues that we observed and we have rejected the [Draft Constitution] for the betterment of the country. We want a law that is very fair."
Commenting on the vexed issue of gay rights, Alagie Jawara said it is the Judiciary and not Legislators or the Executive that is mandated to interpret the Constitution.
"So that is based on the opinion of the High Court judges, the way they see it and the way they interpret it. You can see something in English Language but you need to ask someone the connotative meaning of that particular thing, so all these are reasons why we said no to the Draft Constitution," he further stated.
Latest posts by News Desk
(see all)