By Nyima Njie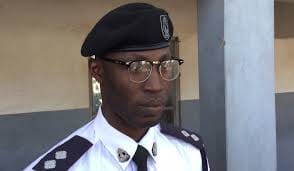 July 19, 2021
The Public Relations Officer (PRO) of the Gambia Police Force has urged people to come forward and serve as prosecution witnesses in order to help bring criminals to book and as well make the work of the Police easier.
ASP Lamin Njie made the remark during a recent interview with this medium.
He pointed out that the police cannot be everywhere, thus every good citizen should be a police officer in his or her own right, to help tackle crime in the country.
Criminality has been on the rise in The Gambia in recent times, with reports of theft, murder, rape and other offences.
The Police spokesperson decried the fact that people allege that criminals apprehended by the police are released before 24 hours.
He said: "If culprits are brought to the station, investigations are made on the manner in which they committed the crime. If, for example, you steal from an office, it is referred to as stealing by a clerk servant. And if you break and enter into people's houses you will be charged with breaking and entry stealing. The manner in which you have done it determines the kind of punishment."
He also recalled that the joint force that was established by the security agencies called Zero Crime Operation arrested 247 (two hundred and sixty-five) people in The Gambia within 47 (forty-seven days). The Zero-Crime Operation is a combination of all sister forces in The Gambia. Their aim is to tackle crime in the country by dismantling all criminal hideouts, as well as prosecute offenders.
Latest posts by News Desk
(see all)