Editorial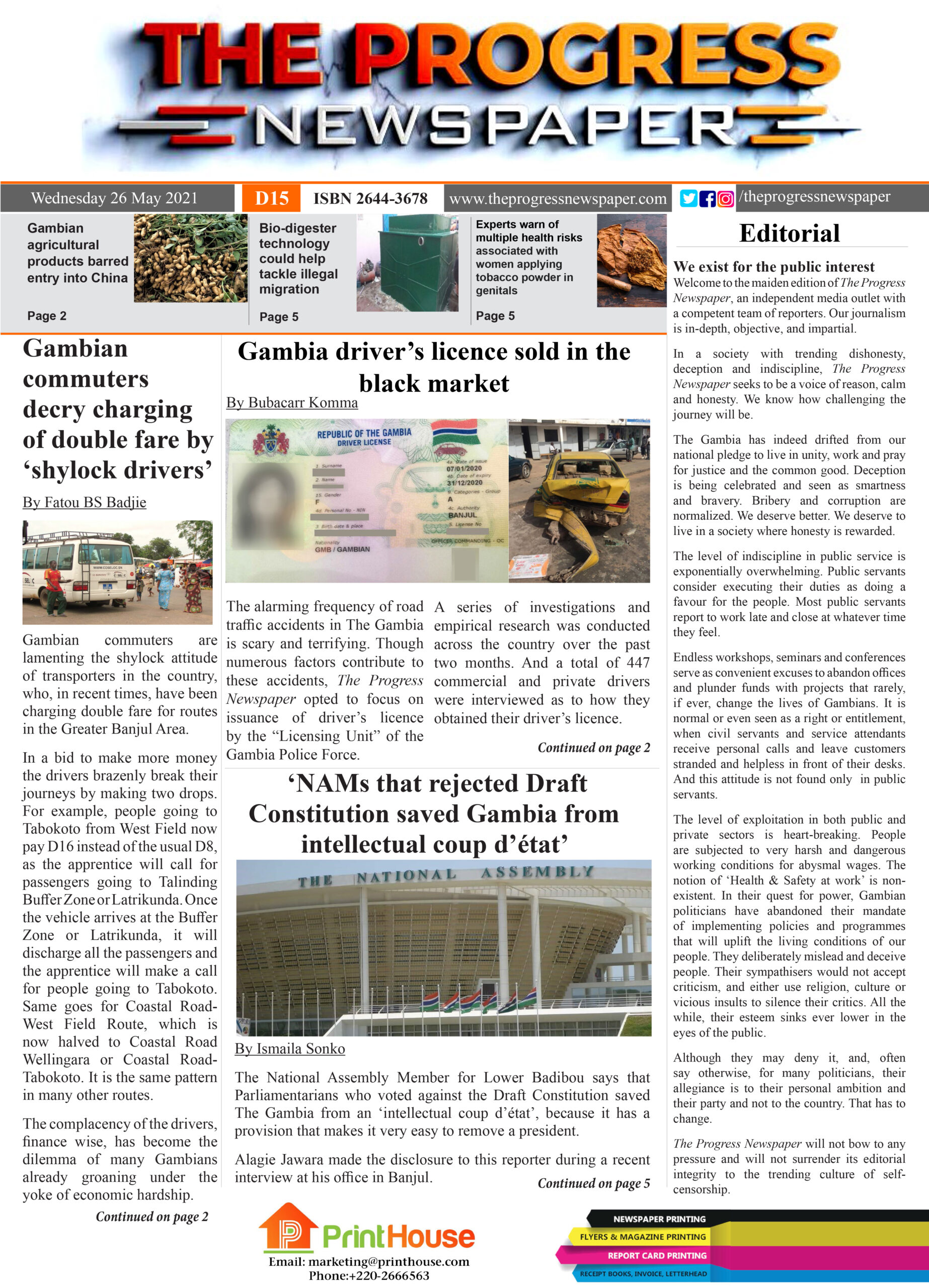 Welcome to the maiden edition of The Progress Newspaper, an independent media outlet with a competent team of reporters. Our journalism is in-depth, objective, and impartial.
In a society with trending dishonesty, deception and indiscipline, The Progress Newspaper seeks to be a voice of reason, calm and honesty. We know how challenging the journey will be.
The Gambia has indeed drifted from our national pledge to live in unity, work and pray for justice and the common good. Deception is being celebrated and seen as smartness and bravery. Bribery and corruption are normalized. We deserve better. We deserve to live in a society where honesty is rewarded.
The level of indiscipline in public service is exponentially overwhelming. Public servants consider executing their duties as doing a favour for the people. Most public servants report to work late and close at whatever time they feel.
Endless workshops, seminars and conferences serve as convenient excuses to abandon offices and plunder funds with projects that rarely, if ever, change the lives of Gambians. It is normal or even seen as a right or entitlement, when civil servants and service attendants receive personal calls and leave customers stranded and helpless in front of their desks. And this attitude is not found only in public servants.
The level of exploitation in both public and private sectors is heart-breaking. People are subjected to very harsh and dangerous working conditions for abysmal wages. The notion of 'Health & Safety at work' is non-existent. In their quest for power, Gambian politicians have abandoned their mandate of implementing policies and programmes that will uplift the living conditions of our people. They deliberately mislead and deceive people. Their sympathisers would not accept criticism, and either use religion, culture or vicious insults to silence their critics. All the while, their esteem sinks ever lower in the eyes of the public.
Although they may deny it, and, often say otherwise, for many politicians, their allegiance is to their personal ambition and their party and not to the country. That has to change.
The Progress Newspaper will not bow to any pressure and will not surrender its editorial integrity to the trending culture of self-censorship.
Latest posts by News Desk
(see all)